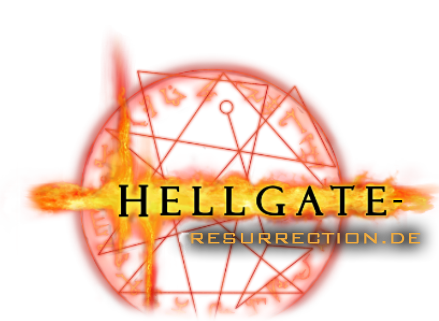 MUSS MAN EINFACH LIEB HABEN:


Die Wälder um die Kultstätte Stonehenge boten schon immer Stoff für Mythen und Legenden. Doch jetzt sind die Zeiten längst Vergangenheit, in denen Elfen in den Blättern tanzten, und Druiden die Natur beschworen.
Die dunklen Horden der Dämonen sind in das einst so friedliche Land eingedrungen, und verwandeln die grünen Wiesen in blutige Schlachtfelder. Noch nie da gewesene Monstermassen belagern nun die letzten Rückzugsgebiete der Menschen an der Oberfläche. Noch können die mutigen Templer die Dämonen zurückdrängen, und die Kabalisten mit ihrer mentalen Stärke die Schutzschilde aufrechterhalten. Nur wie lange können sie noch durchhalten?
Neue Monster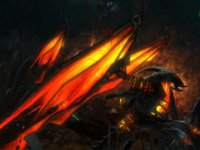 Die neuen Monster in Stonehenge sind äußerst gefährlich, und man sollte nur gut vorbereitet gegen sie in die Schlacht ziehen.
Geflügelte Teufel stürzen sich aus dem Himmel herab, und schon von weiten sieht man ihren bedrohlichen Feuerschweif. In kürzester Zeit können diese Bestien zu Dutzenden auftauchen, und selbst den tapfersten Templer in Gefahr bringen.
Sie schießen mit Pistolen Feuersalven auf ihre Gegner, sind aber selbst nur schwach gepanzert und verfügen über keine Schilde. Ein erfahrener Kämpfer sollte schnell ihr Schwächen erkennen können.
Leviathan und Flammenunhold sind fliegende Bestien, die aus großer Entfernung Feuerbälle schleudern, und im Sturzflug riesige brennende Felder hinterlassen. Für Schwertkrieger sind sie schwer zu jagen, da sie nach einem Angriff sofort das Weite suchen.
Neue Gegenstände
Neue Gegenstände erweitern das Repertoire aller Klassen, und bieten zum Teil mächtige Alternativen zu den bisherigen Waffen und Rüstungen.

"Verlust und Besitz, Tod und Leben sind eins, es fällt kein Schatten wo keine Sonne scheint."
Mond und Sonne als Symbol für die Mächte Stonehenges. Die Wildheit der Natur formte Klingen und Schilde, während die Kabalisten die alten Schriften der Druiden studierten, und sich die Natur selbst zu ihren Waffen formten. Mutationen von fremden Bestien bündeln nun ihre Energie an Armen und Beinen, um alle Kraft zu konzentrieren, damit Stonehenge nicht verloren geht.
Neue Gebiete
Die tiefen Wälder rund um die Steinfelder sind bedeutend größer, als alles was in und um London je zu sehen war. Im wesentlichen stellen sich unseren Helden drei große, neue Gebiete mit vielen Folgeinstanzen:
Wake Hallow, Ausgangspunkt zu Molochs vier Wächtern, zu denen man aber erst gelangt, wenn man die Wälder verlässt, und über die Höhlen und Katakomben in deren Areale vordringt. Im aktuellen Hellgate Global Clienten ist Wake Hollow jedoch nicht mehr Ausgangspunkt. Die Eingänge zu den Boss-Gebieten befinden sich direkt in Stonehenge.


Molochs Stufe. Wenn man mit den Köpfen der Wächter die Pforten zu Molochs Stufe geöffnet hat, stehen einem ein Marsch durch die dunklen Wälder, und anschließend den riesigen Turm der bösen Bestie bevor.


Die Wildnis bietet ausgedehnte Wälder in denen noch die Ruinen der Tempel aus längst vergangenen Zeit stehen, und Totempfähle eine Warnung an alle lebenden Kreaturen ausspricht, die es wagen, weiter in diese Gebiete vorzudringen. Eine besondere Herausforderung bieten nicht nur die zahlreichen, viel stärkeren Bestien, sondern auch der härteste Boss, dem je ein Krieger Londons begegnet ist: "Der Verdorrer". Auch die Wildnis ist in der aktuellen Version nicht mehr enthalten. Ob sie nachgepatched wird, ist unklar.
Moloch
Nachdem man in zahlreichen Schlachten die Köpfe der vier Generäle Ash, Nicor, Errgoth und Oriax zusammengetragen hat, die sich in den Höhlen und Gebieten jenseits der Wälder von Wake Hallow befinden, wird der Weg zu Moloch freigegeben.
In den Tiefen des Turms herrscht das Ungeheuer, umgeben und geschützt von unzähligen Dienern. Moloch ist gegen die meisten Schäden so gut wie immun. Nur mit geballter Feuerkraft vermag man diesen Gegner zu bezwingen. Wenn einer seiner Herausforderer stirbt, bedient sich Moloch an dessen freiwerdender Energie um sich selbst zu regenerieren. Im Kampf beschwört er Diener die ihn zusätzlich heilen können.
Desiccator - Der Verdorrer
Wenn man es doch schaffen sollte die "Tiefe Wildnis" zu erreichen, dann erscheint mit einer Wahrscheinlichkeit von fünfundzwanzig Prozent "Der Verdorrer" in diesen ohnehin gefährlichen Wäldern.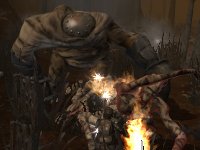 "Der Verdorrer" ist die größte Herausforderung, der sich je ein Mensch stellen konnte. Er versteinert seine Gegner und beschwört schnelle, äußerst angriffslustige, untote Diener. Mit nur wenigen Schlägen kann er seine Angreifer betäuben und töten.
Selbst mit den stärksten Waffen und mächtigsten magischen Formeln kann man ihm nur wenig Schaden zufügen, da er nicht nur eine Haut aus Stein und Stahl zu haben scheint, sondern auch in kurzer Zeit sein Leben regenerieren kann.
Es wird wirklich nur den stärksten Gruppen gelingen, den härtesten Kampf in London zu bestehen. Wer es jedoch schafft diesen mächtigen Boss zu besiegen, hat die Chance ein mysteriöses Ei zu finden, aus dem man einen von drei hilfreichen Begleitern erschaffen kann.
Neue Dye-Kits
In Stonehenge, genauer bei Moloch, kann man acht neue funktionale Dye-Kits (Färbesets) finden, die eurem Charakter zusätzliche Fähigkeiten, wie Lebensregeneration, Schilde und Rüstung verleihen. Im Folgenden seht ihr die Dye-Kit Fashion-Show, die jedes Färbeset enthält, und dessen optische Wirkung auf die verschieden Klassen. Hiermit ein Dankeschön an Reddismus vom ehemaligen offiziellem Forum, da er sich die Mühe gemacht hat und alle Screenshots zusammen getragen hat. Zudem sind hinter den Dye-Kits die jeweiligen Funktionen beschrieben.
EARTH CORE (Erdkern-Färbeset)
- Lebensregeneration
DARK VENGEANCE (Dunkle Rache-Färbeset)
- Glück
INDIGO FIRE (Indigo Feuer-Färbeset)
- Elektrizität Dornen Schaden
COPPER SKY (Kupferhimmel-Färbeset)
- Verteidigung gegen alle Elementareffekte
IVORY HAZE (Elfenbeinnebel-Färbeset)
- Schilde
VANQUISH (Vernichtungs-Färbset)
- 1 Level zum Sprint Skill
COLD STEEL (Kalter Stahl-Färbeset)
- Rüstung
BLACK KNIGHT (Schwarzer Ritter-Färbeset)
- alle Attribute
Die Dye-Kits können mit einer Wahrscheinlichkeit von fünf Prozent beim Kampf mit Moloch fallen.
Neue funktionale Pets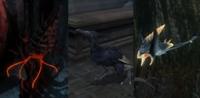 Wenn man es schafft "The Desiccator" - den Verdorrer in der "Tiefen Wildnis" zu besiegen, hat man eine Chance von zwanzig Prozent ein "Mysterious Egg" (mysteriöses Ei) zu finden. In einem "Transmogrifying Cube" platziert, schlüpft aus dem Ei eins von drei neuen Pets mit besonderen Fähigkeiten. Diese neuen Helfer können euren Krieger bei der Schlacht zur Seite stehen. Folgende Pets können gefunden werden:
Nautilus: heilt ab und zu alle Freunde in Reichweite.
Revenant (Wiedergänger): feuert ab und zu spektrale Geschosse auf Feinde.
Heap Raptor (Haldensaurier): zerstört für dich all diese nervtötenden Kisten.
Da die Wildnis und auch der Dessicator nicht im derzeitigen Hellgate Build enthalten sind, ist es auch unsicher, ob die Pets wieder zu finden sein werden.
Frequently Asked Questions
Welche Level haben die Monster in Stonehenge? Brauch ich ein Mindestlevel?
Die Monsterlevel passen sich deinem eigenem Level an. Wenn du also zum Beispiel Level 32 bist, sind das die Monster dort auch. Nur in den Folgeinstanzen sind sie geringfügig höher als du. Dies ist beabsichtigt.
Ich weiß nicht wie ich nach Stonehenge komme.
In der Basis der Templer gibt es in einem der Nebenräume ein Portal nach Stonehenge.
Ich habe in Stonehenge Quests angenommen. Warum kann ich diese nicht irgendwo in meinem Questlog finden? Kann ich die Quests immer wieder annehmen?
Die Quests in Stonehenge kann man immer wieder annehmen. Zur Zeit werden diese nicht im Questlog aufgeführt.
Warum kann ich in Stonehenge das Portal zu "Moloch's Step" nicht betreten?
Um zu Moloch zu gelangen musst du die Köpfe der vier Endbossen sammeln, die du in Instanzen finden kannst. Um diese Instanzen zu betreten brauchst du die passenden Essenzen.
Wo finde ich welche Essenzen?
Die Essenzen werden in die vier Gruppen der Monstertypen aufgeteilt: Biest, Dämon, Necro und Spektral. Die Essenzen können nur bei Monstern entsprechender Art gefunden werden. So zum Beispiel Necro Essenzen nur bei Necros.
Es gibt Orte an denen eine hohe wahrscheinlichkeit besteht, bestimmte Gegnertypen anzutreffen: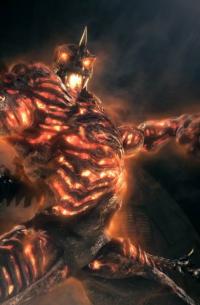 Moloch in Stonehenge
Biest
St. Paul's Hellgate (Apocalypse Walkers)

Hell (Rash, Despair)

Ploughyard

Upper/Lower Kingsway Sewers

Beast in Tower of London
Dämon
St. Paul's Hellgate

Hell

Ploughyard

Shulgoth

Tower of London
Necro
Necropolis

Tunnels/Access Ducts
Spectral
The Downed Exospecter

Ploughyard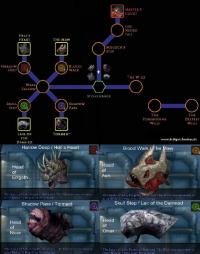 Essenzen & Köpfe
Wie viele Essenzen brauch ich um eine passende Instanz zu betreten?
Man braucht jeweils 5 Essenzen um in die Instanz zu gelangen.
Woher weiß ich welcher Kopf zu welchen Essenzen gehört?
Die Köpfe werden wie im Bild auf der rechten Seite zugeordnet.
Wenn ich mit den fünf Essenzen ein Portal öffne, und dann mit ein paar anderen Mitspielern einen der vier Bosse erledige, droppt der Kopf dann nur bei mir, oder kann es auch passieren das der Kopf bei einem der Mitspieler droppt?
Nein. Der Kopf dropt nur für den Spieler, der das Portal zur Instanz geöffnet hat. Weil im neuen Hellgate jeder Spieler die Essenzen bezahlen muss, dropt auch bei jedem Spieler ein Kopf.
Kann man die Attributs-Retrainer und Dye-Kits handeln?
Man kann die Attributs-Retrainer und Dye-Kits im Auktionshaus, oder auch so zwischen den Spielern handeln.
geschrieben von Strict Standards: Non-static method PEAR::isError() should not be called statically, assuming $this from incompatible context in /srv/gamersunity.de/htdocs/pp/framework/lib/outsource/PEAR/MDB2/Driver/Datatype/Common.php on line 1124 Strict Standards: Non-static method PEAR::isError() should not be called statically, assuming $this from incompatible context in /srv/gamersunity.de/htdocs/pp/framework/lib/outsource/PEAR/MDB2/Driver/Datatype/Common.php on line 1228 Strict Standards: Non-static method MDB2::areEquals() should not be called statically, assuming $this from incompatible context in /srv/gamersunity.de/htdocs/pp/framework/lib/outsource/PEAR/MDB2/Driver/mysql.php on line 436 Strict Standards: Non-static method PEAR::isError() should not be called statically, assuming $this from incompatible context in /srv/gamersunity.de/htdocs/pp/framework/lib/outsource/PEAR/MDB2/Driver/Datatype/Common.php on line 1233 Strict Standards: Non-static method MDB2::areEquals() should not be called statically, assuming $this from incompatible context in /srv/gamersunity.de/htdocs/pp/framework/lib/outsource/PEAR/MDB2/Driver/mysql.php on line 436 Strict Standards: Non-static method MDB2::classExists() should not be called statically, assuming $this from incompatible context in /srv/gamersunity.de/htdocs/pp/framework/lib/outsource/PEAR/MDB2.php on line 2586 Strict Standards: Non-static method MDB2::isResultCommon() should not be called statically, assuming $this from incompatible context in /srv/gamersunity.de/htdocs/pp/framework/lib/outsource/PEAR/MDB2.php on line 2592 Strict Standards: Non-static method MDB2::isResultCommon() should not be called statically, assuming $this from incompatible context in /srv/gamersunity.de/htdocs/pp/framework/lib/outsource/PEAR/MDB2.php on line 3326 Strict Standards: Non-static method PEAR::isError() should not be called statically, assuming $this from incompatible context in /srv/gamersunity.de/htdocs/pp/framework/lib/outsource/PEAR/MDB2.php on line 3574 Bob_ROss
am 08.06.2011 um 14:19 Uhr
x